Writing Seminars in Austin Next Week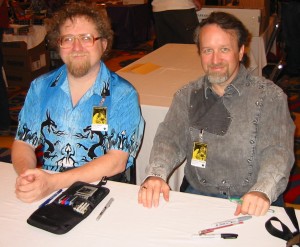 Monday and Tuesday (July 26-27) Aaron Allston and I will be at Dragon's Lair Comics and Fantasy in Austin, TX to hold two days of writing seminars. Dragon's Lair has posted the full schedule of events for your edification. We're putting on ten hours of seminars, including my 21 Days to a Novel and Aaron's brilliant Plot Analysis seminars. A cursory glance at the schedule makes very apparent the fact that these seminars will cover everything you want to know about writing. You'll develop and strengthen your skills set, as well as learn about the business.
Aaron and I have taught seminars together in the past, most notably at DragonCon and Origins. We'll do so again at DragonCon this year, expanding the above program to include four more hours of new content not available in last year's seminar sessions. When I sit in on Aaron's seminars, I am very impressed by not only the depth and wisdom of his analysis, but the very effective methods he's developed for teaching others.
This has always been my problem with writing seminars in the past: Great writers aren't always great teachers. It doesn't matter how good a writer is if he can't communicate to others what he actually does. There are a number of reasons for this lack. First off, it could be that the writer isn't analytical enough about his own process to actually know what it is he does. You'd be surprised how many authors fly on auto-pilot and never identify the tricks of the trade that make them so effective. Aaron and I have done that, and are willing to provide our students with that information.
Second, some writers know what they do, but don't want to share for fear of training up the competition. Speaking for myself on that point, I'm not worried about competition. First off, if any student gets better than I am, it's because I've gotten lazy. In that case, I deserve to be shoved out of the market. Second off, I'm not training competition for me, I'm training the writers who will end the careers of lazy writers who are taking up my shelf-space in stores. Third, and perhaps most important in the shifting world of publishing today, there is going to be less and less competition for shelf-space, since virtual shelves accommodate everyone. So, in offering these seminars, Aaron and I get to train up a generation of writers who will turn out the sorts of stories that we like to read.
Third, teaching requires an entirely different skills-set than writing. In college I was trained to be a teacher. I've been teaching writing seminars since the early 1990s at Gencon. I've expanded to other conventions and other venues, including university conferences. Part of being a teacher is understanding that different students learn in different ways. Great teachers shape their lessons and hone their approaches to provide multiple vectors on making a point clear. In short, they figure out the ways to get the message across to you, so that you can make the most of it.
Some folks will think that $10 an hour for writing seminars is kind of pricy, especially in this economic climate. If you're committed to becoming the best writer you can be, that's a tiny investment in your career. The first story you sell to a professional market after these seminars would more than pay for the entire course. When else are you going have a chance to learn the craft of writing from a pair of New York Times Bestselling authors at such sensible prices? (And I would note that lots of people have paid a lot more for some of these very seminars in different venues.)
I'm looking forward to meeting folks at Dragon's Lair. There's an incomparable joy in seeing eyes brighten and smiles grow as someone hears a solution to a problem that's been vexing them for a long time. I really love helping others achieve the dream that I've been lucky enough to have come true. Hopefully you'll be one of them.