Gencon Schedule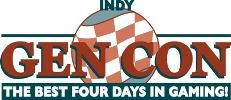 I'll be at Gencon in Indianapolis next week, teaching my writing classes, doing a reading, and some autographing sessions, just hanging out and having a bunch of fun with friends and colleagues. My schedule looks like this:
Thursday 8/5:
10-12 Noon Signing (At the Catalyst Game Labs booth)
4 PM The Rules of Writing
5 PM Writing Success in the Post-Paper Era
10 AM Signing (Author's Alley)
4 PM 21 Days to a Novel
5 PM Writing a Successful Series (*New* seminar this year.)
6 PM: Reading (Not sure yet what I will read. Could be the story Covenant, from the anthology Stalking the Wild Hare, which will be on sale at the convention. It's a collection of stories by the authors involved in the Writers' Symposium, which Jean Rabe wrangles together. It's a limited edition, and Gencon is going to be the place where you can get it signed by all the authors.)
Saturday 8/7:
2:15-2:45 PM Signing (At the Catalyst Game Labs booth, prior to their big 3-5 PM BattleTech Blowout signing.)
3 PM Characterization
4 PM Plotting
5 PM 21 Ways to Kill Your Novel(*New* seminar this year.)
Sunday 8/8:
10 AM Signing (Author's Alley)
I know I have at least one more signing at the Catalyst Game Labs booth (I'm trying to confirm the time). I'll edit this post as the schedule firms up. [Note: signing added to Thursday 10-12 noon and another, Saturday 2:15-2:45 PM prior to the 3-5 PM mass BattleTech signing.]
I believe all of the seminars will be taking place at the Marriott, which is where they usually are. You'll want to check the program book to make sure. The seminars all cost $8, payable in tickets, generics, and cash.
I will also have all of my ebooks on writing for sale on disk, including some special deals. The coolest of these is the big deal this year: all of the how-to-write books (21 Days to a Novel, Plotting, Characterization, The Rules of Writing, Writing Fiction (a short course), Serial Fiction, World Building and the brand new Digital Career Guide) which is a $170 value, for $140. Plus, I have packaged all of these ebooks on a 4 gig flash drive, which is disguised as a pen. It not only writes, but also has a laser pointer. That's a $25 device (you can actually pay more for the 4 gig flash drive itself) tossed in for free.
Okay, I know it's totally a geek-gadget, but I saw them when looking for flash drives and they look great. (I might have a few left at Dragoncon.) Given that 4 gigs is more memory than my first five computers combined could muster, I just love these pens. Did I mention they have a laser pointer, too? When do you not need a laser pointer?
I'm really looking forward to Gencon and the classes. I always have a lot of fun with them. As I saw when teaching in Austin this week with Aaron Allston, it's great to watch folks' eyes brighten as a problem with their writing evaporates. I really enjoy training writers who will turn out the sorts of stories that will challenge and entertain readers. Means I'll have plenty of good stuff to read when they put me out of business.
I look forward to seeing you there.