Customer Service WIN!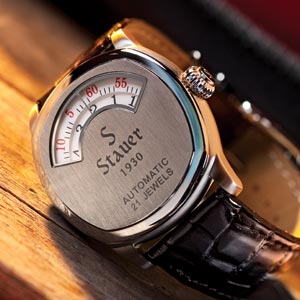 (Note: I have received no promotional consideration for the following post. Since I would have blasted the company in a post if they had FAILED, I figured it was only fair to relate this story of a win.)
Just before heading out to DragonCon, I saw this watch in an advertisement—this picture, in fact. I liked the look immediately. I've got several nice watches already, but most of them are tough to read at night/in low light or need replacement batteries. I figured I'd order the watch to carry with me to DragonCon as a back-up/change-up. I standardly travel with a pair of watches in case something goes wrong with one. (And, yes, my phone and my iPod serve that function, but I'm so used to glancing at a watch that I forget those alternate sources. Beside, try glancing at one of them covertly.)
I ordered the watch on the Friday two weeks before the convention. It arrived the following Thursday. I put it on, got it going, headed out to meet a friend for a WNBA game. The watch looked great and Charlie even commented on the watch's style. This was good.
The problem was that the watch stopped. Repeatedly. And then, for good. For all intents and purposes it became a good looking bracelet. That's great, but I didn't buy a bracelet.
Stauer.com has a very liberal returns policy. The shipping manifest comes with a return label. Fill out the form, package things up, and they'll get you a replacement. Problem was, I was leaving in a week. The watch had to reach me by Wednesday, or it was no good to me.
So I called their toll-free number. I explained what had happened and said, "I wanted the watch for a big conference I'm going to. I leave Wednesday. What I want to know is if you can get me a replacement by then."
The customer service rep explained that this would not be possible, since they have to get the watch back, inspect it, send a replacement. "And the order wouldn't go out until Monday, so it couldn't get there Wednesday."
I said, "It could if you Express Mailed it."
He paused for a second and then said, "Let me see what I can do."
He put me on hold for a couple minutes, then came back and told me how to fill out the return form. "It'll be taken care of."
Wednesday night, the watch arrived. This one had been taken out of the packaging, verified to be running, repacked and sent second-day. I promoted it to being my primary watch at the show and got a number of compliments on it. I am very pleased with the watch, and ecstatic at the service.
As I noted above, I've gotten no promotional consideration for this post, and I don't expect any. The holiday shopping season is coming up, however, and you might want to look at Stauer when you start shopping. I was very pleased with my experience, and they have a whole host of reasonably priced watches and other products that are perfect for holiday gift-giving.
More important than the watch and how it looks, the customer service was a reminder of what businesses need to do to promote customer loyalty. They went out of their way to help me out. Not only did I appreciate that, but I've shared that fact with lots of folks (even more with this post). Being good to customers is good for business. Companies that forget this will soon be out of business.