Welcome to Ebooks Pak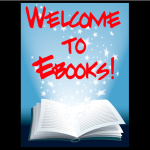 I've just put together my Welcome to Ebooks package for $25.00. It's a really special collection of novels and other material that makes this package perfect for folks who've just gotten an ebook reader, or as a companion gift for anyone you know who has just gotten one. It's just loaded.
It contains six of my novels:
Talion: Revenant
Once a Hero
In Hero Years… I'm Dead (Deluxe Edition)
and The Fiddleback Trilogy Omnibus edition.
That's $30 worth of novels right there. Plus I've included a copy of my Consumer use guide to Ebooks and ebook readers, which you've all read in this blog.
On top of that, a dozen other professional authors have contributes stories, novels and samples of their work, as well as biographical information that links back to their websites where you can explore more of their work. And there are valuable coupon codes included in the package for further purchases down the line.
All of that in one package for $25. That's the price of a brand new hardcover novel that will weigh more than your ebook reader! It's a great deal to help you fill your ebook reader with all sorts of good stuff.
Click on the image above or here to go to the store for further information. It's the perfect package to break an ereader in the right way.