Are The X-wing Books Really Out of Print?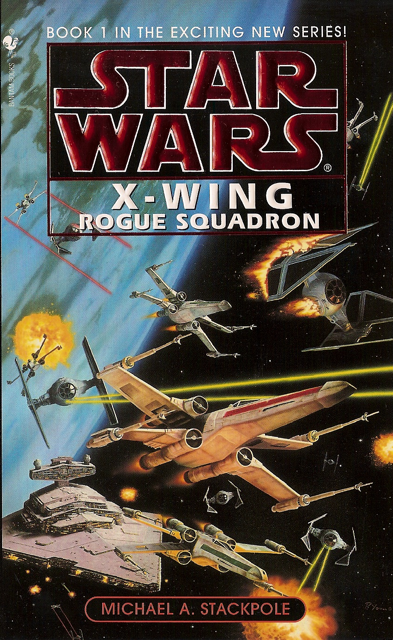 Thanks to your comments, here, on Facebook, in blogs and on Twitter, I got an email from an editor at Random House asking me to assure you all that the X-wing books are not going out of print. The editor said that they never were out of print. The editor said that they consider the X-wing books a crucial part of the line and are committed to keeping the books in print. The editor said that the books are available and continuing to sell.
And, in fact, I did a check on Bookscan. It looks as if, over the last eight weeks, the X-wing novels have been selling between 30 and 40 books a week. According to Random House you should be able to find them whenever you want them. (You might have to ask folks to order them in, but they should be available.)
So, if this is true, what was it that led me to believe the books were no longer available? That's a great question, and is rooted in business practices that began before the American Civil War (or War of Northern Aggression); have been modified only slightly since that time, and are not set up to face the 21st Century. This week I'll be writing a series of blog posts to walk folks through the arcana of the publishing business and how writers get paid.
Confusing Numbers
Royalty statements come to authors twice a year. The statement that arrives in April covers sales from July through December of the previous year. The October statements cover the first half of the current year. This means, of course, that if someone buys a book in January, I won't have that sale reported until October of the same year, and I might not get paid for it until the following April, a full fifteen months after the sale. (More on that later in the week.)
Royalty statements have never been easy to read. When I got my packet of royalty reports—some for Star Wars® novels, some not—I glanced at the summary sheet. They indicated negative sales for every book in the X-wing line. This means that while Rogue Squadron sold 1500 copies between January and June, 2010, it sold -20 from July to December, 2010. That's one heck of a drop, which meant sales were dropping off while returns were coming in. Again, huge turn around.
Returns are a crucial part of the current book publishing model; and are one of the reasons it's collapsing in on itself. Back during the Great Depression, book publishers started making books returnable. If a retailer had the book on his shelves for at least six months, and no longer than eighteen months, he could return it for full credit. This encouraged bookstores to buy more inventory than they might otherwise, since they couldn't lose money if it didn't sell. Some time later, the time constraint got removed, so any copy of a book sold to any store, anywhere could be returned to the retailer for full credit.
Once I saw that none of the X-wing novels had recorded positive sales, I took a look at the monthly shipment figures. I've reproduced them below:


The key thing to look at is the drop-off starting in September. Three of the books shipped zero copies. The royalty reports for my DragonCrown War series came in the same packet, and none of them showed a similar drop-off. They showed the same up-tick in sales during October, as retailers get books in for the holidays, but they didn't bottom out. In fact, everyone of them outsold even Rogue Squadron during the last four months of 2010—and this despite each of them selling about 8% of Rogue Squadron's numbers during July and August.
In my career, the numbers I was looking at told me one thing: books weren't shipping because books weren't available. Since I'd not had a reprint notice on any of the books since 2009, there was no reason for me to assume they weren't out of print. Had I not been stunned by what I was reading in the numbers, I might have remembered to use the Bookscan information to confirm what was going on. (Even then, my access to Bookscan numbers is limited, so I can't see what happened six months ago.) (More on all this tomorrow.)
But, I have been using Bookscan, and a lot of other things of late. Just digging around I've learned some amazing things and as the week unfolds, I'll be more than happy to share them with you.
Again, thank you all for your kind words concerning my contributions to the Star Wars® universe. The folks at Random House are certainly aware of your passion, and I don't think they'll want to run afoul of it again. So, fingers-crossed, we should have the X-wing books around for a while yet, and of that I am very happy.