Writing in the Golden Age of Ebooks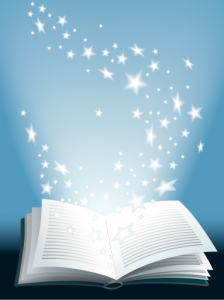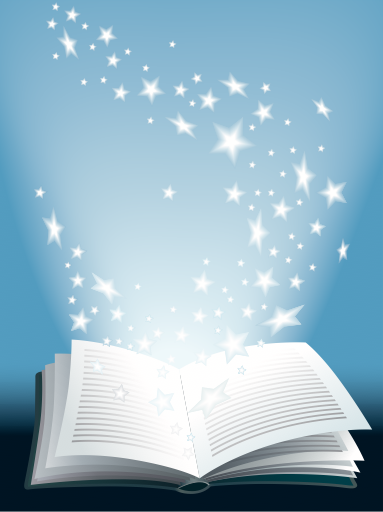 My last post painted a gloom-and-doom scenario for the publishing industry. I wasn't trying to be hyperbolic. I believe everything I wrote, and I wrote it in the vain hope that some folks in traditional publishing might read the warning and act to negate my vision of the future. Like most folks, I love books and I don't want to see them go away. (And I don't think they will, more on that below.)
The fact is, however, to paraphrase Sinclair Lewis, "You can count on a man remaining ignorant, when his collecting a paycheck depends upon his being ignorant." Any company that has a vice president in charge of warehousing and shipping has a senior executive whose own fiefdom depends on ebooks failing completely, or advancing at a snail's-pace. I can't blame them for defending their turf, but it strikes me that their bosses have a responsibility to the company to look past their immediate concerns, and look toward the future as a whole. I do not believe that folks in traditional publishing are focusing on that kind of vision.
Traditional publishers are not the only folks who remain willfully ignorant. Just this week, in response to one of J. A. Konrath's blog posts, another author blogged that anyone who predicts the collapse of traditional publishing is "angry" and "too close to the situation." It was made to sound that because of our emotional involvement in the future of our livelihood, we couldn't be considered rational. At the same time said author was making a passionate defense of the right of authors to remain willfully ignorant of the digital future—her emotional involvement with the status quo not, apparently, affecting her ability to make rational assessments.
It's really easy for folks to look at authors who are embracing self-publishing as a collection of Chicken Littles proclaiming that the sky is falling. Uniformly, however, these authors have had a vast amount of experience in the publishing industry. Heck, my first two novels came out in 1988, and this year will see the publication of numbers 45 and 46 (with a couple as yet unpublished books waiting to roll out). We've all seen the general decline in the industry and have vast experience in its inability to deal with technology. As I noted earlier in the week, when I can collaborate with a software developer and be the first into the Appstore with novels and stories—beating out every single one of the world's major publishers—something is seriously wrong with the industry.
2011 is going to be a year in which you will see some amazing things come to publishing, but to recognize them you're going to have to push past authors denigrating authors who are embracing the future. Those of us looking forward are the folks who standing under an umbrella on the deck of a boat warning of the coming storm. The other authors are standing there in the rain proclaiming, "You're wrong! I'm not drowning!" They are forgetting that the game's not played to avoid drowning, the object is to remain dry. Even if you don't drown, you're still going to be cold and miserable and treading water for a long time; and the folks you expect to save you just may not do it.
There have been a lot of folks who have described this new era in publishing as "the wild west." I think that's wrong because, unlike the west, there are laws out here. Not laws in the sense of legalities as much as there are laws that govern successful product launches and promotions. Ignore, or fail to learn about, marketing, and success will be meagre. Marketing ain't rocket science—as proved by the fact that we have more "brands" of water than we ever had men who walked on the moon.
I really see things as more of a "farmer's market." Consumers will be buying direct from authors. Some authors will be like the folks who sell their home canning, with sticky Avery labels pasted on mason jars. Others will have fancier packaging. People will offer work that's familiar, like the folks who sell honey; and others will get into more exotic stuff, like homemade hot relishes based on a recipe from their grandmother in Tuvalu. Successful authors will offer samples so customers get a taste of what they're buying; and they'll set their prices according to what they think is fair.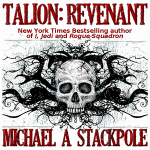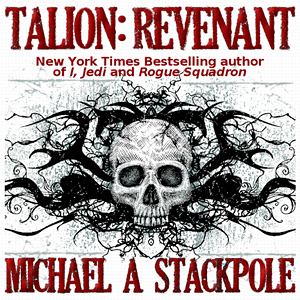 Authors will get to do cool things like the 10,000 copy Talion: Revenant challenge I've got in place. As I've promised, when I hit 10,000 ebook copies of Talion: Revenant sold, I'll turn around and write Talion: Nemesis, the sequel. (It's the first of five Talion novels on which I have notes.) Since no traditional publisher wanted to buy the book, the challenge was the best way I could think of to finance it. (We're at approximately 1,300 copies right now which, for a year's worth of sales, is really good. Let your friends know about the book and the challenge. If Joe Konrath can sell thousands of copies of his books a month, there's plenty of readers out there who are primed to buy T:R. You can get your Kindle copy at this link, and buy the epub version from this link in my store.)
There are authors who have banded together to create worlds and share stories in them. I regularly talk to other authors about sharing characters or villains or locations or gizmos. I mean, imagine a fantasy story set in earth's past where a sorcerer's skull is entombed to stop its influence on a cult of high priests. And then imagine a story where the skull is unearthed two thousand years later by archeologists. The cult rears its ugly head again, and someone's .45-packing detective has to do what an ancient hero couldn't. That sort of stuff would be a blast. In the digital era, we can write and sell those stories without worrying what hole it will plug on a bookstore shelf.
Most of you know that I recently completed writing the novelization for the new Conan movie. While I was working on it I read more of Robert E. Howard's work and read essays about him and how he worked. All of those writers back in the days of the pulps—and I got to know some of them, like Manly Wade Wellman, Hugh B. Cave and Robert Bloch—wrote a tremendous volume of work. Why? Because there were many markets for their work. Some magazines during that era would do upwards of three issues a month, with each issue containing a full-sized novel, some novellas and a bunch of short stories. True, the writers were not getting paid much (1 cent a word for a story, as opposed to 4 cents a word now (yeah, you read that right)), but the voracious appetite of the market and readers meant that they always had work.
Ask yourself this question: How long does it take you to consume an average novel? Six or seven hours? A day? A week? A month? With that answer in mind, consider this: It will take me roughly one hour of work per thousand words of that novel. So, the average novel will take me a minimum of two and a half weeks to write. Let's bump that out to three to include edits and proofing. So, that's 21 Days for a Novel; and you'll devour it in a day? I daresay, if you're reading this and you can go at the book without too much interruption, you are guaranteed to finish that book is less time than it took me to write it.
What this means, then, is that the capacity of the audience to consume a writer's work will always exceed his capacity to generate work. With you acting as patrons of the arts, and voting with your dollars to let us know what you want to see more stories on, writers will never want for work; and you'll never want for stories that entertain you. For this reason alone this is a Golden Age.
I remember, when I first encountered writers like Walter Gibson and Lester Dent and Robert E. Howard, that I marveled at the fact that they could work so quickly. I still do, since they didn't have either computers or Aleve. But I also wished I had been born back then so I could write in that era. There were enough markets that I could have done as they did, and have written stories that were all over the place. Some fantasy here, historicals there, westerns, mysteries, science fiction; and I could have done series of them. I could have done novellas, not just short pieces or novels.
I recall, many years ago, having a breakfast meeting with an editor at a convention. She asked me what I wanted to do next and I started telling her about this idea I had for a novel that would be a bit absurd and really funny, satirical and yet have a lot of heart. It would be lighter fare. I spun the story out for her, painting all the cool pictures of all the scenes. She laughed and just thought it would be wonderful.
And then she stopped, and sobered, and said, "But, you know, that isn't a Michael Stackpole story."
(Sure, read it again. I'll wait.)
I understand fully what she meant, and under the old system she was right. She was looking at having me carve out a market niche for myself, and shifting focus with a comedy wouldn't help in that regard. But I also know that readers, when they find an author they like, pursue that author's work. The author becomes a friend who can be trusted to entertain and divert. I know this because I'm a reader, and that's how I do things.
In Hero Years… I'm Dead was one of those novels which couldn't be published in traditional publishing because there just wasn't a market niche for it. Superhero Noir doesn't have shelf-space in a Barnes & Noble. Heck, on Amazon I had to list it under graphic novels because there was no other category that touched on superheroes. And yet, for it being an unmarketable book in a non-existant category, it's sold very well and has gotten wonderful reviews.
This is why we're now in a Golden Age for writing. If writers don't want to self-publish, I don't care. I think—especially in the case of any author who has a backlist or novels that have never sold—that authors are being short-sighted if they don't think about putting out backlist material or writing new and shorter material in support of already existing material. I have helped many authors begin to set themselves up and I'm willing to continue doing that. I think that to remain willfully ignorant of digital publishing on that most basic level is the equivalent of being waist deep in water and waving to Noah as the Ark drifts past.
More importantly, I think it's a fantastic thing for authors to have the chance to share some new work directly with readers. While I'm working on Of Limited Loyalty right now, I'm also making notes on two other series of stories I want to write over the summer. I am so excited, I can't describe it. Writing is an absolute blast again. Having the ability to make my own decisions about what I want to write, and being freed from having to worry whether or not a cabal of editors will deem my project worthy of support, is incredibly liberating. Sure, I get that I'm going to live or die, sink or swim, based on my own creative decisions and the amount of energy I put into marketing my work. But that's great, since I had zero control over that sort of thing in the past. I don't mind reaping the consequences of my activity or inactivity—I positively hate failing because someone else decided that matching my efforts wasn't somehow worth it.
I understand—and I know many other of the authors embracing the digital age understand—that being a pioneer isn't for everyone. I'm cool with it. If I'm having fun, and if readers are being entertained, life is really good. If the work I do, or that Joe Konrath does or Amanda Hocking does, makes it easier for another author to step up into the boat and sail into the digital future, that's great, too. The ride is smooth, the drinks are free and every port of call is better than the last.
This is, of course, about far more than ebooks. The same technology that makes it possible to create an ebook allows publishers (small, medium and large) to create absolutely wonderful souvenir editions of books. When any of my digital originals generate enough sales (I'm targeting 5,000 units at this point), I'll hire an artist, I'll get interior illustrations done, and be able to put together a limited press run of a book that folks will be proud to have on a shelf. Bibliophiles will now be even more likely to get those heirloom editions of their favorite books; and collectors will have a field day.
Most of all, it's going to be a Golden Age for readers. It won't matter that your favorite sub-genre went bust years go; you will be able to find old content and brand new content to feed your addiction. Steampunk, for example, is getting very popular, but publishing houses are too full of paranormal romances to be able to publish enough books to feed the hunger for Steampunk. Digital publishing can easily fill the gap and, I believe, will.
Those of us who are predicting the collapse of the old business model are not doing it out of spite, or anger, or frustration that we're not being treated the way we think we should be treated. We're really just pointing out that the caterpillar is wrapping itself in silk and will go away.
And we're just waiting for that brand new butterfly, and the promise of a future as colorful as the wings it will soon unfurl.
_______________________
Writing up this series of blog posts is cutting into my fiction writing time. If you're finding these posts useful, and haven't yet gotten yet snagged my latest novels, please consider purchasing a book. Nice thing about the new age of publishing is that you become a Patron of the Arts, letting writers know what you'd like to see more of simply by voting with a credit card. (Authors charge less when they sell direct, so you save, we make more, and that frees us to write more.)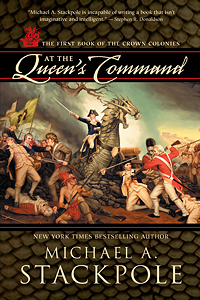 My latest paper novel, At The Queen's Command, is available at book retailers everywhere.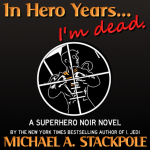 My digital original novel, In Hero Years… I'm Dead is available for the Kindle and in the epub format for all the other readers, including the Nook, iPhone, iPod Touch and iPad. (Imagine the Batman, Watchmen and Kick-Ass movies all rolled into one, as written by Dashiell Hammett, and you've pretty much got the idea of the book. Oh, and with some satire and political commentary slipped in for irony.)