Why Digital Self-publishing Frightens Some Authors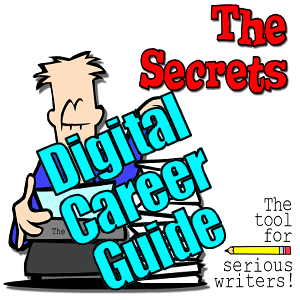 There are a lot of reasons that authors will offer for why they are afraid of digital self-publishing. Most of them are chaff tossed out to shield themselves from the truth. Digital self-publishing makes the world a very scary place. The real question becomes what are authors truly afraid of.
One of the prime reasons given for not embracing digital self-publishing is that self-published books lack legitimacy. This is a hold-over from the days when every conventionally-published author got to look down his nose at some noob who dropped thousands of dollars in a vanity publishing scheme and ended up with a garage full of semi-literate books. At that time New York publishing was seen as the gatekeeper of legitimacy. Their editors would determine if your book was good enough to be shared with the world. New York still insists this is true, but they're willing to offer a digitally self-published author like Amanda Hocking $2 million for four novels. So, once a writer has made it, they're willing to admit them to the club. Nice gatekeeping.
Traditional publishing surrendered it's claim to being gatekeepers every time they let a crap novel get printed. Am I to believe that Snooki is ever going to be short-listed for a National Book Award? Traditional publishing is in this for the money, just like everyone else. This is why they'll elevate Hocking, at the same time ignoring the digital publishing efforts of authors like me—while pointing out, if asked, that I'm okay because I already have their imprimatur. Moreover, traditional publishers now use the same freelance editors that any self-publishing author can employ, so on the basis of quality, they've lost their edge. Self-publishing authors can compete on price by selling for less; and our publishing schedule allows us to do more and provide it faster to our audience (who consumes our output at a rate roughly four to thirty times as fast as we can produce).
A lot of authors also believe that they don't have the skills necessary to be a digital self-publisher. This is nonsense. I fully get the idea that I may be sharper than most when it comes to a lot of computer stuff, but any author who has edited a novel or short story can do the prep work needed to make a digital book. And, just as with editing, we can turn to professionals (among whom we doubtless have friends and fans who will work for little or nothing) for graphics and website services. Barnes & Noble and Amazon make it exceedingly easy to get your work up and for sale, and they cover 80+% of the ebook market. Even if you sold no place else, you could do fine selling through them.
Yet another group of authors, who have listened to traditional publishers or have glanced at ebook sales on the royalty statements we get sent, believe there is no money to be made in selling ebooks. To them I offer the following:
1) All of your backlist stories, sitting in your file cabinets, are making you no money right now. Even if you only sell one a month, every month, for the rest of your life, you'll be making more money off them than you are right now.
2) In February, 2011; ebook sales outstripped paperback sales. In February B&N reported that because of Nook sales, their ebook sales had hit (by the end of December 2010) their sales goals for 2014. That is just how fast the market has grown. Even the wildest optimist did not predict this sharp a growth curve.
3) Since December, 2010, my ebook sales via Amazon have increased 336%. Two years ago my Kindle sales would buy me a nice meal once a month. This year they are on track to pay my mortgage. If the growth rate I'm seeing continues, that will also include my health insurance premiums by the end of the year. And while these numbers could plateau or even slip, the gross numbers are for sales that are a fraction of the sales of my print books. Where my digital sales to grow for say, In Hero Years… I'm Dead, to just half the numbers of my most recent print book, I'd be hitting, I'd clear over $20,000 on that book alone. Given the sales numbers cited by authors like Amanda Hocking or J. A. Konrath, not only is there no reason to assume they won't get there, but there's no reason to assume they won't blow past that.
4) My results are similar to those reported by other writers, but they aren't universally true. Some folks sell a hell of a lot more, others less. But each and every one of them are making more through digital sales than someone who doesn't have anything for sale.
But what is the fundamental reason that a lot of authors are terrified of digital self-publishing?
If we digitally self-publish, we have to take full responsibility for our careers.
As much as writers might bitch and moan about how shabbily their publishers treat them, they have a built in excuse for why they aren't selling like Stephen King. "They never sent me on tour." "They didn't give me the cover I wanted." "They didn't make me the lead title in their list that month." "J. K. Rowling released a book within sixty days of my book coming out and you know what that means." "They didn't push my book, they didn't do an ad for it where I told them to…" The list goes on and on and on.
Yes, if you digitally self-publish, you have to take responsibility for your work. If the cover looks like crap, you're the one putting it on there. You have to fix it. If you want reviewers to post reviews of your book, you need to find them and send them copies. You need to blog about these things, get the word out on the social networks, and do that over and over again.
Basically, you have to do all the things you complained that the publishers never did for you. And while there may be a science to marketing, it ain't rocket science. It continually boggles my mind that writers who can research technology or history and imagine whole worlds some how believe they can't, with the same sort of study, learn how to do all this marketing stuff. That proposition is unbelievable; and when folks pretend they don't know anyone who would help them will all this, well, then it all gets ridiculous.
I do understand that there are writers who are so thoroughly invested in traditional publishing that, for them, to strike out on their own would seem like suicide. And, to be fair, that's not what any proponent of digital self-publishing is advocating. I don't care if you only sell novels to big publishers; and if they're paying you well, more power to you. But if you've got a backlist, or you have a trunk novel that they never accepted; you can put it out there easily and make some pocket change on the side.
For the rest of us, however, for those who've not been guaranteed a spot on bestseller lists, or who aren't pulling down six and seven figure advances; self-publishing is a place where we can do well. But that's if we're willing to be responsible for our careers. If we're willing to do the hard work, we should and will reap the benefits
And that idea does not frighten me in the least.
_______________________
Writing up this series of blog posts is cutting into my fiction writing time. If you're finding these posts useful, and haven't yet gotten yet snagged my latest novels, please consider purchasing a book. Nice thing about the new age of publishing is that you become a Patron of the Arts, letting writers know what you'd like to see more of simply by voting with a credit card. (Authors charge less when they sell direct, so you save, we make more, and that frees us to write more.)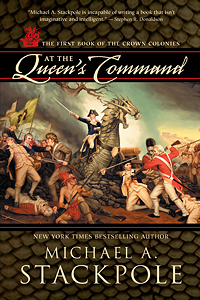 My latest paper novel, At The Queen's Command, is available at book retailers everywhere.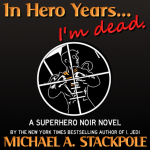 My digital original novel, In Hero Years… I'm Dead is available for the Kindle and in the epub format for all the other readers, including the Nook, iPhone, iPod Touch and iPad. (Imagine the Batman, Watchmen and Kick-Ass movies all rolled into one, as written by Dashiell Hammett, and you've pretty much got the idea of the book. Oh, and with some satire and political commentary slipped in for irony.)