My Conan Adventure: Part One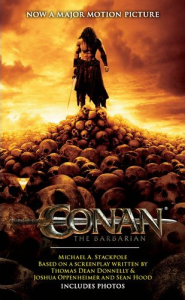 I have to start this adventure forty years ago, when I was thirteen. That's when I first discovered Conan. I have to start there because the boy in Vermont reading those books, falling in love with Belît, thrilling to the adventures of the Cimmerian, never would have believed it possible that he'd have written a Conan novel, much less attend the World Premiere of the film Conan The Barbarian in Los Angeles.
Because I grew up in Vermont, Los Angeles was only slightly closer to my existence than was Howard's Hyborean Age. It wasn't that I was ignorant of where LA was, I just didn't care. I knew I wanted to write, but back then it never really clicked for me that scripts had to be written. And novelizations of scripts, that was an almost unknown art. I guess it got done from time to time—technically the novel Thunderball is a novelization of the script—but all that was part of a process of which I was ignorant.
Conan was so much more real than LA. I hauled the Lancer paperbacks around with me, reading the stories whenever I had the chance. I distinctly recall sitting in a Freshman French class at Rice Memorial High School and having Sister Cecile Brassard pluck the paperback from on top of my pile of books. I'm 99% sure it was Conan the Buccaneer, with a great Frazetta cover. She turned it over, her face scrunched up, and she read aloud:
Epic Fantasy's Mightiest hero… in a demonic adventure at the edge of the world!
Emphasis on demonic with a side of withering disdain and giggles from girls. Mind you, at that point in my high school career, I believe I was all of 4'6" tall, and on the freshman football team simply because they didn't cut anyone from that squad and we still didn't have a full 22 kids for practice. There would have been more laughter, I think, save that a bunch of the guys in the class were on the team, so they had to back me just a little.
So my cheeks flushed. My ears burned. But day after day I went to that class with new Conan novels, or Doc Savage novels or Edgar Rice Burroughs novels right on top of a pile books that weighed about half as much as I did. If it wasn't against the rules to be reading such things, I wasn't going to back away from reading them; and if she'd demanded we read books in French, I would have found them in French. (And now it's very cool to have books translated into French and, thanks to Sister Cecile, I can actually make my way through them.)
From the start I loved Howard's writing. Sure, some folks decry it as purple or overwritten, but they can't deny the power of his words. If you read the Howard originals—and I have, many times—the sharp turns of phrase and the way Howard approached what he was writing really do point out how skillful he was. I think if one were to look at his body of work and project it forward—much as one might look at J. K. Rowlings work and how she grew as a writer during the Harry Potter novels—Howard would have grown into one of the best storytellers in America. Because of his short career and suicide, and a willingness to use adjectives more liberally than fellow suicide Ernest Hemingway, critics dismiss him curtly and unfairly.
Back then, when I was reading those stories, critical analysis was not something I could do. From Howard I got wonderful visions of an alien world so tantalizingly real that I hoped some archeologist would find evidence it existed. I got Conan for what Howard saw him as—not a de Campsian noble savage filled with honor, but a barbarian who found civilization puzzling, intriguing, amusing and something which he could accept or disdain with easy facility. Howard's Conan was not stupid—he could read many languages, he understood military tactics, strategic planning and learned politics among thieves, pirates and the crowned heads. He delighted in victory, accepted defeat, respected courage and despised weakness. He was truly the wolf at the edge of firelight—you didn't know if he was there to eat you, or to work with you to destroy the things lurking in the darkness.
And there were always things lurking in the darkness.
In later years, after having collected the comics and having joined the Robert E. Howard United Press Association (REHUPA)—thereby meeting many other hardcore Howard fans—I moved off into gaming and writing my own material. Still, Howard's influence remained with me. I reread the stories—something which is very rare for me to do. Bits and pieces of lines would appear in other books, in homage to Howard, so profoundly did I remember them.
And then, many years later, I got an email, asking me if I wanted to write stories about the Cimmerian.
_______________________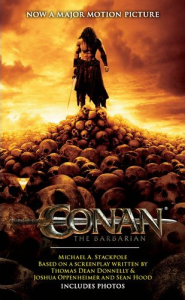 This series of posts about my Conan experience stems directly from my involvement with writing the novelization of the new movie. You can snag the book for your Kindle or as a physical copy just by clicking those links. The novelization expands on the movie, including original material, cut scenes and a lot of scenes shot from Marique's point of view.
If you like that, you might also want to try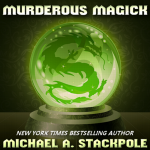 Murderous Magick is a five-pack of short stories, including the only extant Talion short story, Shepherd and the short story, The Silver Knife. Also included are a weird-western set in the Deadlands universe, an even odder Holmes pastiche than The Silver Knife, and Looks are Deceiving, a new story in a brand new fantasy universe far more reminiscent of Robert E. Howard than The Lord of the Rings. It's available for the Kindle, and for sale directly off my website for any epub compliant ereaders.