Upcoming Convention Specials!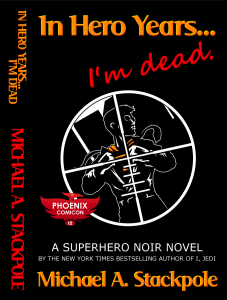 Convention season begins in less than ten days, with Phoenix Comicon here in Phoenix. This is a great show, which has gotten bigger each year, and I'll be in attendance once again. Not only will I participate in some panels, but I'll be teaching my 21 Days to a Novel seminar and, for the first time ever, I'll be offering a show exclusive.
It's pictured to the left, and is the first time that my superhero noir novel, In Hero Years… I'm Dead, will appear in print—physical print, that is. I've produced a very limited run of the books (6×9 trade paperback, 358 pages) using the deluxe edition copy. That means not only do you get the novel, but you get the essay about how it was written, too. I only have twenty-five of the books coming, all are emblazoned with the Phoenix Comicon logo. I won't be selling them off my website, so your shot at getting them will be at the convention. The book retails for $15, and is the perfect book to be reading while you wait for your 17th viewing of The Avengers.
In Hero Years…I'm Dead is also available available for the Kindle and in the epub format for all the other readers, including the Nook, iPhone, iPod Touch and iPad.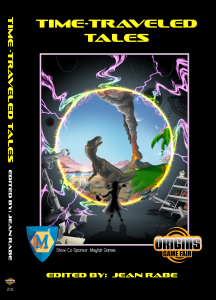 The Origins Game Fair takes place the first weekend in June in Columbus, Ohio. This is the premier gaming convention of the year. In the past couple of years we've been beefing up our author program, known as The Library. We've pulled together over a dozen published authors who, throughout the convention, offer classes on writing and the business, as well as do readings. Classes vary in price from $2 to $10, and when writers are not teaching, they can be found in The Library section of the exhibit floor.
This year we've put together an anthology, Time-traveled Tales, with samples of work from all of our authors. Jean Rabe edited the book and the lineup is impressive: Aaron Allston • Maxwell Alexander Drake • C.S. Marks • Sarah Hans • Donald J. Bingle • Janine K. Spendlove • Kelly Swails • Jean Rabe • Jennifer Brozek • Daniel Myers • Bryan Young • Michael A. Stackpole • Tracy Chowdhury • Gregory A. Wilson • Dylan Birtolo • R.T. Kaelin • Steven Saus • Bradley P. Beaulieu • Timothy Zahn.
This book is limited to a printing of 500 copies and we're already expecting to have all of them gone before halfway into the convention. It's shaping up to the convention's must-have collectable souvenir, especially with so many authors there to sign it. The book is a 6×9 trade paperback with 200 pages. It will sell for $10.