Talion Challenge Update #3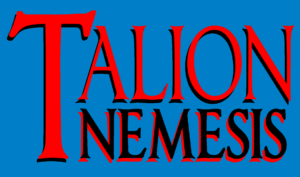 First, for everyone who has been so patient for any update about the sequel to Talion: Revenant, thank you. I've talked to a lot of you at conventions, or via Twitter and other services. Your forbearance and interest have pushed me to to find a way to bring Talion: Nemesis to you. Though it has taken a long time, and my schedule keeps running into delays, I've finally found a way to make the sequel work.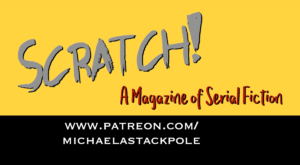 Scratch! is a project I'm starting to deal with a number of issues that the current writing business environment has created. I don't want to bore you with all the details (at least not right now, that can wait), but the business really demands that writers be as creative as they can in both their writing, and in their business planning. Scratch! is one such answer and, with your help, it's really going to change how I work and deliver material.
Short form: Scratch! is a magazine of serial fiction which, through Patreon, you pay for monthly. Talion: Nemesis is going to be the focus, but I have lots of other stories ready to go. Issue Zero is a sample and you can download it for free, just to get a sense of what I'm talking about. And the more folks subscribe, the more fiction you get.
Please click on the links above and take a look. I go into more detail via the Patreon page and, again, that's where you can get the free sample.
I am really enthused about this new project and all it portends for the future. I have a solid 18 months of material stacked up already, so I'm set for this to ramp up. Thanks for taking a look, and for joining me in this new enterprise.