Heroes! the Anthology, now on Kickstarter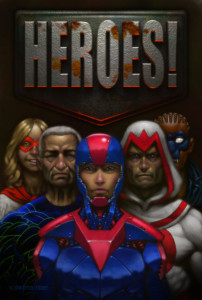 Heroes! is a project that began as the 2013 Origins Game Fair anthology. As we did with Time Traveled Tales, Silence in the Library and the authors in the anthology have entered an agreement to bring the book out on a profit-sharing basis. It's a great deal for the writers, and that means we can give readers a great deal.
For anyone who has read my In Hero Years… I'm Dead, Heroes! and the other projects offer some neat additional material:
Field Trip: This story goes into the past of IHY, back to the days when Graviton hadn't yet become Graviton. It follows the young hero, Merlin, who is on a school field trip to Capital City, and decides to intervene in the robbery of an art museum. Before he can do anything, however, he runs into Puma, and gets a great education.
Need to Know: This story focuses on Grant Stone, a young man growing up in the small town of Lyttleton, in the years when his powers were developing and before he had an inkling he'd become Graviton. Here he meets Merlin for the first time, and together they have to deal with a domestic terrorism threat. This story was published in the collection A Hero By Any Other Name, which a number of us put together and brought out as a companion volume to Heroes!
In the stretch goals I have two offerings:
At $11,500 you get Peer Review: This story first appeared in the Superheroes anthology edited by John Varley and Ricia Mainhardt. I remember it fondly because it was the first time any story of mine had appeared in a trade paperback. The ebook package includes the story Peer Review, and an essay about the origins of the main character, Revenant. He's not the same Revenant who appears in IHY, but he is the Revenant who appears in Aaron William's PS-238 comic. This story is also the origin of Colonel Constitution.
At $25,000 you get In Service Days, which is a brand new, never-before-seen, story in the IHY universe. It's set firmly between Need to Know and Field Trip (on the heels of the former, in fact). I'm super-excited about it for two reasons. First, there's a chance for one of you to name a character in the story. The thing about that is this: that name will determine a family name which shall be persistent throughout the IHY canon. So, first come, first served, there is only one chance at this, but that family will be showing up more, I'm fairly certain.
The second reason is that I'm really enjoying going back to that Universe, and especially in the early days of Graviton and others. I'm getting to explore all sorts of cool issues with stories, about the nature of life, of growing up, of being a hero. I'm also building a background upon which IHY took place. I can't wait to do more of these tales, so I can continue to shape that universe.
I know there will be more cool things being added to the project, so you want to get in now and make sure it funds. You'll love what you get, and can be happy knowing that authors are getting quite the fair shake in this deal.
Click on the title to support Heroes!