Fortress Draconis: The Podcast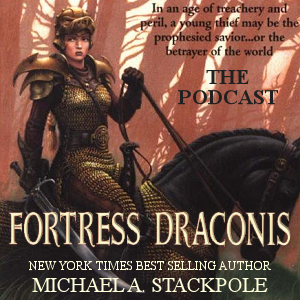 A quarter century previous, an elven seer spoke the Norrington Prophecy:
A Norrington to lead them,
Immortal, washed in fire
Victorious, from sea to ice.
Power of the north he will shatter,
A scourge he will kill,
Then Vorquellyn will redeem.
For twenty-five years the world has awaited a hero, and now the world's fate rests in the hands of a nimble-fingered young thief.
Fortress Draconis: The Podcast?
Yes, the epic fantasy novel is now a podcast, coming to you in weekly installments, read by the author, Michael A. Stackpole. Sounds pretty good, right? Of course, which leaves you with only one question:
What's a podcast?
A podcast is an independently-produced entertainment audio file, or series thereof. Podcasting is a way of publishing those sound files (usually in .mp3 format) over the internet. What makes podcasting so unique and user-friendly is that the sound files can be delivered via an RSS (Really Simple Syndication) feed. Once you've subscribed to a show, the files arrive on your computer automatically. You decide when and where you listen to the program.
Getting the files is simple. You can go to the website and download the files directly or, through the use of a program called a podcatcher or an aggregator. The best known of these is iTunes, but there are plenty of them available over the Internet, most downloadable for free. Once you have your podcatching software installed on your computer, you can subscribe to Fortress Draconis: The Podcast or any of a thousand more. To subscribe, just open your aggregator (in iTunes it's on the advanced menu) and click on Subscribe. When the box comes up, cut and paste: http://www.fortressdraconis.com/podcasts/fd/fdxml.xml into the box, and you should be good to go.
Or you can just scroll up and click on the iTunes button above if you want to subscribe directly through iTunes.
But what if you don't have an iPod? Can you still listen?
Absolutely. As long as you are reading this, you have everything you need to be able to enjoy the podcast.
You'll be able to stream (play directly through a media player such as Winamp, Windows Media Player or iTunes) Fortress Draconis. You can also download the .mp3 files directly to your computer. To save the file to your PC computer: right click the appropriate link and choose "Save target As." To save the file on a Mac: click and hold the mouse button on the appropriate link and choose "Save File As." If you are using OS X, simply Option-Click on the link and the file will be automatically downloaded.
Once you have the files, you may burn them to a CD to play in the car, on a stereo or portable CD player. You can also listen to them right on the computer, or load them onto an MP3 player. The Fortress Draconis files are encoded so they should work with all different players not just iPods.