Why do I walk to Starbucks?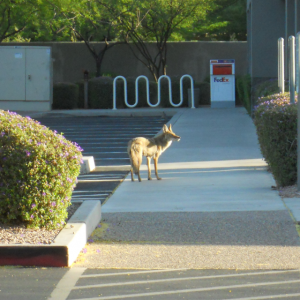 Many mornings I get up bright and early and walk a mile and a half to Starbucks. On the way down I usually call my parents and chat with them, since it's mid morning in Vermont and still dark when I start out. I get coffee, chat with some folks, read the news on the iPad and get some work done. On the way home I usually figure out what I'm going to be writing that day, run dialogue and similar things. It's good exercise.
One of the gentlemen who comes in is older and very nice. This morning he asked me why I walked to Starbucks. The subtext of his question was simple: in Arizona, everyone drives everywhere. If you don't have a car you might as well be dead. And the idea of someone not having a car in Scottsdale, well, just not possible. So the only answers could be a) exercise or b) "Dude, I'm a writer. We drink too much. My license is suspended."
The correct answer is A.
And another choice that I didn't give above: C for Coyote.
The picture above is one I took with a little Nikon digital camera the other morning. I'd seen that coyote before. I was twenty yards from the coyote when I took that shot. He'd seen me first, at about twelve yards, and I'd caught a flash of his tail as he turned away. I followed, and he was trotting off, so I whistled.
He stopped and looked back, as if to say, "Seriously, you think I'm a dog? Dude, I'm born free, never had a collar."
He let me have a couple of shots, then ran off. I got a couple more. We played tag on my way home, mostly because I was downwind of him, and he was interested in checking out a rat that got squashed in the street.
He's not the first coyote encounter I've had on my walks. One morning, during the winter, while it was still dark, I came around a corner and there were three of them. I kinda got a shock. So did they. They ran off, which is a good thing. At the time I was armed with my trenchant wit, a cell phone and a laptop, none of which would have been sufficient to prevent me from being coyote vittles. Luckily they were more afraid of me than I was of them and loped off. As I noted above, this one I've seen before and a couple weeks ago I saw a pair moving through the same territory.
Coyotes inhabit many metropolitan areas, and most folks never see them. Out on the net I read a report about a tracking project in Chicago. Most humans just figured the creatures were dogs. Between overflowing dumpsters, rats, cats, small dogs and food left out for the latter two, coyotes can do really well.
Eight years ago some coyotes in the area here had to be killed. Some morons in a development thought they were "cute" and started feeding them. And the coyotes remained "cute" until one helped himself to an ice cream cone in the hands of a three year old. Cue the last reel of a monster movie. The peasants get their pitchforks and torches, and the monsters are extinguished.
I'm really hoping this boy remains afraid of humans. I'll do my best to encourage that. As much as I love seeing him running around and like taking pictures of him, if he learns to be more wary, that will make me happy.
And will be yet one more reason to walk to Starbucks.