NaNoWriMo Prep Work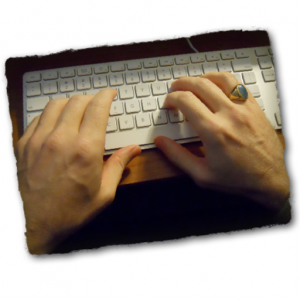 November is almost here and I have a novel to write. Of Limited Loyalty is the second book in the Crown Colonies series. It picks up roughly three years after At the Queen's Command. As I did last year, I'll be putting a lot of words on the project during November. I'll also be blogging about the experience.
I'm starting a bit behind the eight-ball. Last Sunday I managed to crunch my right hand while playing soccer. Nothing broken, thank goodness. I punched a hard shot out of the goal, catching the full force of the shot on the last knuckle and side of my hand. It's sore as all heck. While it's not affecting my typing, my right hand feels at the start of November the way it felt half-way though November last year.
The keys to getting a book written in a month—and National Novel Writing Month wants you to turn out 50,000 words in 30 days—are consistency and good planning. Consistency is simple: you have a quota of words to hit each day, and you hit them. If you can get ahead of the curve on a good day, you push it. If you fall behind, you push to get caught up. You find your pace and keep going.
In down time, you look at planning things. This becomes really important when working quickly. I'll be making notes while I'm writing and then, each morning, as I walk to Starbucks for my morning coffee, I'll work on folding new data into the outline. I will not be going back and editing as I go along, but I will be inserting new material and characters into the story going forward. As you find characters or themes picking up steam, you slide them into the story. This increases the momentum, and makes the story a lot easier to write. Build up enough momentum, and the story will all but write itself.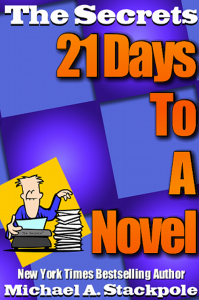 A number of folks have pointed to my book 21 Days To a Novel as a tool they're using to plan out their NaNoWriMo project. Without a doubt, doing the exercises (which can easily be squeezed into a weekend) will put any project on solid footing. The characterization exercises are especially useful in helping authors realize the full potential of their characters. The plotting work makes taking what you know about your characters and building it into an outline for the novel a seamless and enjoyable process. 21 Days To a Novel has been reformatted for epub format ebook readers (Sony, iPad, Nook). The folder includes information on how to add the book to your device.
I also just added a coupon code to the store: nanosave. If you type that in when you check out, you'll get 25% off on any purchase of $40 or more.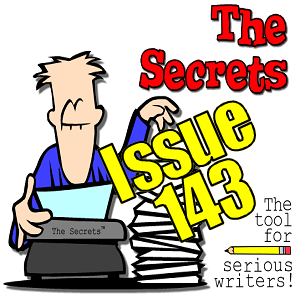 Another product I just released is Issue 143 of The Secrets. This issue covers the tricky business of creating and sustaining sexual tension in stories. It's not about writing erotica—this is more about foreplay than it is consummation. Because romance and love story angles add so much to novels, using the techniques in this issue is a great way to make your fiction race along. This issue is available on its own or as part of the current subscription.
One last thing about NaNoWriMo: Wednesday evenings, beginning at 5 PM Pacific time, I'll be hosting a "write-in" in Second Life. Second Life is free, graphically-based chat software. During November the write-ins are a prelude to my office hours. During office hours I'll be hanging out to answer questions anyone may have about writing—especially folks who are trying to tackle NaNoWriMo for the first time. Once you get signed up for Second Life, just click this link to get to the write-in. Join other writers for an hour of writing and mutual support.