Tricknomancy: The Trick Molloy Collection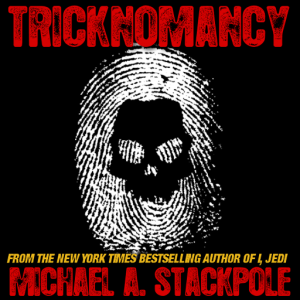 Just wanted to let you know that I've finally gathered up all seven of the Trick Molloy stories and made them into a single, novel-length collection. Many of these stories I've shared on this website, doling them out in serialized chunks a couple years ago.
I really like these stories for a variety of reasons. Probably the best is that they kept me writing during a difficult time. Three and a half years ago Bantam dropped me, right after I turned in The New World. I was lucky enough to have friends who shot me work. Writing to direction has never really been a problem, but when those jobs were over, I was left looking at what I'd be doing for the future. You see, at the same time Bantam let me go, publishing tightened up considerably. (I'm not alone in having had my income slashed by 60% overnight; and better writers than I have had to go out and snag day-jobs while waiting for the industry to recover.)
In many ways having to work without a contract was the best thing possible. It caused me to take stock of my position in the industry, and to look at where the industry was going. This, in turn, pointed me toward the digital publication issue. The more I looked at it, the clearer the images became. As you are all aware from reading my comments on that topic over the years, most of what I've predicted has come true, and the jury is still out on the rest of it.
The Trick Molloy stories both provided me a creative outlet and a laboratory for testing concepts. Giving people free samples definitely spurs sales. When I started offering the complete story for sale halfway through the serial run, people purchased the whole story instead of waiting to get it for free. This information has gone on to influence others with their efforts. Heck, even the traditional publishers have adopted my pricing scheme for short work so some of them are listening.
The collection adds two stories, If Vanity Doesn't Kill Me and The Devil Within. Both of them have seen print in anthologies, but I'd not offered them for individual sale because of contracts. I've bundled them together with the other tales, and have put them in the proper chronological order. The stories really do read as a novel might, and that's by intention. I've always looked at Trick's saga as a much longer story, and breaking it down into "cases" was more a function of genre convention than anything else.
I'll post links when the book becomes available for the Kindle and on Barnes & Noble. For now you can snag the epub version by clicking here. If you want to snag it for the Kindle, just click here.
There will be more Trick Molloy stories to come, and this collection is a great start to what will be a long run of tales.
(Sales copy from the store below)
___________________
Tricknomancy collects all seven of the Trick Molloy stories into the novel-length story they were always meant to be. This collection includes If Vanity Doesn't Kill Me and The Devil Within which have not been previously released or collected with these other stories.
Tricknomancy tells the story of Patrick Molloy, a magick-using ex-cop who was busted off the force on trumped up bribery charges. He works as a bouncer in a Gentlemen's Club, Club Flesh, where all the women use magick to conjure dollars out of the patrons' pockets. His only true friend is the coroner; his family hates him with a passion, and the cop who busted him off the force is just itching to find a way to send him to jail.
Trick Molloy's world is one in which magick-users are feared and hated. Televangelists make bank on casting them as the devil's tools. Gangsters often use magick more readily than guns. Respectable magickers use their skills for seduction, robbery and murder. No one in power really cares about what befalls the criminal class, which Trick Molloy as the one man smart enough to discover the truth, and tough enough to administer justice.
These seven stories, sold separately, would cost $18. This collection is a steal at $5.