The Secrets Super Pen (on sale for a limited time)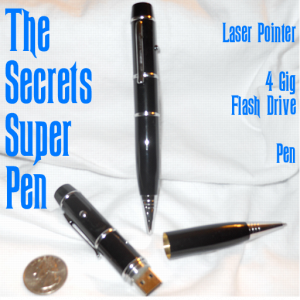 Over Halloween I was asked if I had any of the Secrets Pens from this summer for sale. As you can see from the picture, the pen has a ballpoint, a 4 gig flash drive and a laser pointer. (That's the button on top.) I'd run out of them at Dragoncon and sincerely thought I only had a couple left. Then, in cleaning up my office, I found a dozen of them. Since they're really cool, I decided to make them available for sale this holiday season.
This summer the pens had all seven of my how-to write books on them. For the holidays I'm adding all seven of the novels I have in epub format to the mix. The Fiddleback Trilogy Omnibus, Tricknomancy, In Hero Years… I'm Dead (Deluxe Edition), Once A Hero and Talion: Revenant. (All sales of Talion: Revenant on the pens will count double for the 10,000 copy challenge.)
That amounts to $200 worth of material on the pen's 4 Gig flash drive. I'm selling it for the same price as the summer: $140.
The quantity is extremely limited. I only have a dozen of the pens available.
In order to make sure the pens arrive for the holidays, I'll stop taking orders for them on 15 December. I can only ship to addresses in the United States.
This really is a smoking deal. Click the link to place your order.