Can Supervillains Celebrate Christmas?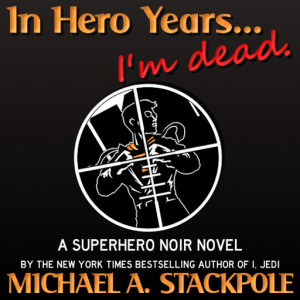 (Because of the holidays, I'm a bit behind in my work, and that cuts into my blogging. Fortunately enough, I have a guest blogger who is willing to provide insights about the world from a decidedly and distinctly unique point of view. He's agreed to cover me once a week for the foreseeable future. Please join me in welcoming Doctor Sinisterion.—Mike Stackpole)
Doctor Sinisterion (D. D.), is the author of the recent book If I Was A Supervillain. Having retired after a long career as a spiritual consultant and entrepreneur, he took time to study many of the great criminal enterprises of our time, and offers his critique of them in his book. Critics have suggested the book is merely an exercise in revisionist history. He is currently a citizen of the Central American nation of Santiago, but considers himself a free man of the world.
Dear Dr. Sinisterion,
Can supervillains truly celebrate Christmas? Isn't this really the anti-holiday as far as they are concerned?
I Know The Reason For The Season
Dear Know,
Of course supervillains can celebrate Christmas. It is one of our most favorite times of the year. It's not for the reasons most people would suspect. It's not because harried people leave presents in cars to be stolen. It's not because in their hurry to get everything done they carry a lot of cash and expect to be jostled in a crowd. It's not because ordinary people are willing to commit mayhem to get that last sweater from the sale rack. It's not because the desperate are willing to pay big bucks for a scarce toy, and don't seem to mind that it "fell off the back of the truck."
It's not even that all sorts of amateurs give in to greed during this joyous season. It is nothing of the sort.
We see the holiday as it truly is. And I do not refer to the fact that the chronological placement of the Nativity story is a lie—even the most innocent person knows that lambs are born in the spring and that a Roman census does not require people to return to the town of their birth to be counted. While that sort of fraud (meant to link Christmas with the Roman Saturnalia) is so elegant as to be admired, supervillains find an even more fundamental reason to enjoy Christmas.
It's Santa Claus.
After all, people have chosen as the patron for the holiday a man who sneaks into houses unbidden, extorting milk and cookies, all out of your fear that he'll leave a lump of coal in your stocking. Moreover, he extorts good behavior out of you all year long. It's as if he constantly whispers to you, "Nice holiday you're having here. Be a shame if something bad happened to it." Moreover, this is a man who has such a vast surveillance network that he knows what you're doing every waking and sleeping moment. Why privacy rights advocates have not sued him, I have no clue.
Santa Claus, Saint Nicholas, Kris Kringle—that's a nice list of aliases. And you only see him once a year, so he must have secret identity. And minions, he's always going on about those elves. When you think about it, Santa is one of us.
Fear not, good people, your governments are on top of this. The whole global warming thing is really a war on Santa. They're destroying his secret hideout by melting it out of existence. They're sterilizing the natural habitat for his flying reindeer. They will put a stop to him.
And they have to: he is so brazen and bold a criminal that he dares wear red during his capers. He warns people he's coming, and nothing will stop him. (NORAD may track him, but they've never successfully shot him down.) He's so good that if you were to ask any law enforcement official if Santa existed, he'd deny it on the spot. Even those tasked with catching him refuse to say he's real.
Were I to admit to having an idol, he would be it.
But back to your point: yes, supervillains can enjoy the holidays. We have families—the surviving members of which might even speak to us. We exchange gifts with our peers. Nothing says it's Christmas like getting that Tritium Induction Fuse you've been wanting. We enjoy a hearty meal, then do what most others do, and retire to the television room to watch the Extraordinary Rendition Channel. (The holiday Face-off competition is great fun, but X-games Siberia is growing on me. Khyrgizstan has a good team this year.)
You see, supervillains realize that the holidays are a time for sharing and giving. And we understand human nature. You might not want to share with us, give to us; but we have methods to make you see the error of your ways, and a full year to use them.
(Neither Santa nor any reindeer were harmed in the writing of this blog.)
(If you have questions for Doctor Sinisterion, please mail them to Sinisterion at stormwolf.com or leave them in the comments below.  Doctor Sinisterion regrets that he will not be able to critique your plans for world conquest, but he is always open to consulting on same. If you wish to know more about Sinisterion, you can read about him in In Hero Years… I'm Dead, a novel which Sinisterion insists is a complete and utter fabrication and has no depictions of holiday celebrations or Santa.)
In Hero Years… I'm Dead comes in two editions. The basic edition costs $5 and contains just the novel. the Deluxe Edition includes a long essay about the process of the writing and the genesis of the ideas. These two links will take you to my store where you can buy the epub format which works on Sony readers, the iPad and the Nook.
In Hero Years… I'm Dead is also now available for your Kindle. Click this link for the basic edition
and this link for the Deluxe Edition