Garlic Aioli for the win.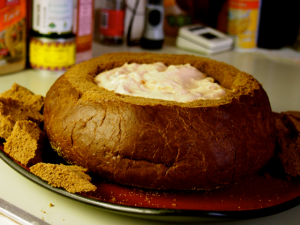 Just in time for Super Bowl parties, I thought I would share my recipe for a Garlic Aioli dip. I first had garlic aioli at Delux Burger in Phoenix. They serve it as a dip for sweet potato fries, and it was delicious. I don't recall ever asking for their recipe, but a server once listed the ingredients. Later, at Tapas Papa Frita, a restaurant in Scottsdale, I ran into another garlic aioli dip, which was also delightful. I decided to reverse-engineer the dip and the results of my experiments has met with rave reviews.
Ingredients:
2 cups mayonaise
1/2 cup sour cream
One garlic bulb, large (or two medium)
One teaspoon of smoked paprika (or regular paprika, but smoked is available in most grocery stores)
salt and pepper to taste
Using a garlic-press, smash the entire bulb worth of garlic cloves into a paste. Put the garlic into a bowl. Add the mayo and sour cream. Using a whisk, throughly mix the ingredients. Add the paprika and continue whisking until it's all a uniform pinkish-red. Taste, add salt and pepper if needed. It's ready to eat at this point, but gets better if you refridgerate. I'm not sure how long it will keep. At least a week, but I don't recall it ever lasting that long.
Serve with chips or bread. Getting a rounded loaf of sour dough or pumpernickel bread and using that to make a serving bowl is a cool way to serve the dip. Just don't put it into the bread too soon, or the bread will get soggy.
NOTE: You definitely want to get and use a garlic press. I made this once without one. I resorted to using a grater, which worked, but was not easy on the fingers.