Remembering Aaron Allston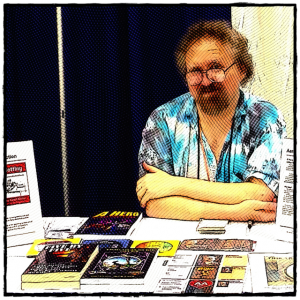 I'm not good with death.
I've been lucky enough that very few people who I have gotten to know closely have died. None of them have I known for as long or as well as I knew Aaron Allston.
His death hurts. It hurts deeply. I haven't succeeded in writing about his death before today because the words haven't been coming. This sort of loss is something I would prefer to deal with privately. Maybe I'd share it with a close circle of friends. And now that circle is missing one of its most supportive members.
Any one memory of Aaron cascades into dozens of memories. Aaron and I met on a cross-country road trip to Origins thirty-two years ago. He sent me a rejection slip thirty-one years ago. Shortly after that, Hero Games hired both of us to design and write Justice, Inc.. Aaron was a friend for the whole of my adult life, and my creative life. There are not enough words—even among writers who have a license to make them up as we go—to encapsulate even a fraction of that.
I've read many of the tributes posted online about Aaron. Right about at the time when I feel all teared out, someone new says something else wonderful, something that makes me think, "Yeah, that was Aaron." Many people have regretted only knowing him through his novels or games. Lots of you have talked about only meeting him once, or hearing him on a couple of panels.
I want you to know that all of you knew Aaron, the real Aaron. Those of us who were lucky enough and honored to log more hours in his company didn't know him better, we just knew him more. Aaron was the man you meet in his books. He was the man you saw on panels. He was the man who would listen and smile, and listen more.
I've seen lots written about his quick wit. He was deadly with a pun. He was deadlier with an insight. He could deliver an ego-piercing comment with a sniper's skill and the timing that professional comics lust after. Those remarks, as accurate and lethal as they were, never were delivered in a mean-spirited way. He just kept all of us honest and on the rare occasions when we'd needle him back, he took things with philosophical resignation and great, good humor.
Many people have mentioned that Aaron was a fiercely loyal friend. When a friend had been slighted, he'd be the first to offer sympathy, and then a plan for setting things to right. Always with a smile and that sly, devilish twinkle in his eyes. And a pun, usually.
Aaron also had a delightful, impish ability to tackle a problem from a different angle, and his artful delivery of insights about absurdity served him best when he was protecting friends. Two years ago, when preparing the first Origins fiction anthology, I used Amazon's Create Space to put the book Time Traveled Tales together. We were doing a limited run of 500, which I ordered for the convention. In doing so, I left a box on some webpage unchecked, so our exclusive collection could, if someone was looking for it, be ordered direct from Amazon.
One of the authors in the collection noticed that the book was on sale. Said author was a bit alarmed about "unauthorized sales" and shot an inquiry off to all the authors on the little listserv we'd set up. The message, written in haste, could have been read to suggest that I was going to be pocketing a fortune off these illicit sales. Heck, that's how I read it, and I was both chagrined and a bit pissed about having my integrity questioned because of an honest mistake.
I immediately looked into the problem, checked the unchecked box to kill further sales, and reported back that the unauthorized sales had netted an entire $18. I apologized for the error to the listserv, then noted I'd be happy, at the convention, to hand each author $1 the second I saw them.
All was quiet on the western front.
Then Aaron weighed in.
I wasn't there when he read the original message, but I know what his reaction was—his physical reaction. Heel of the hand to his forehead, eyes squeezed shut, and a muttered, "Oh, Good Grief." Aaron could say those words with the pain of a parent who's just discovered a crayon mural on the living room wall, and yet with the bemusement of that same parent admitting that at least the artist used a nice palette of colors.
In his reply, Aaron said he didn't want the $1. He said, instead, he wanted me to write an eighteen word story, then buy it from myself for $1 a word. Aaron explained this was because he, "wanted to know someone who got paid $1 a word for a story." In that beautiful, short note, he defended my honesty and pointed out the ridiculousness of the whole situation. And did it from an angle that had the rest of us laughing.
I did reply that I'd do him one better. I wrote a four word story, so I'd get $4.50 a word. Here, dedicated to Aaron, is:
Fish Food
Shit. The shark's back.
I think, were I to rewrite it now, it would be six words:
Oh, Good Grief. The shark's back.
Though I'd known Aaron for many years, exchanging emails, rooming together at a convention or just hanging out when friends got together at a con; it was in the last decade that our friendship deepened and became stronger. That started when he joined the universe of Star Wars™ writers, then progressed as he and I worked together to create and present a highly successful slate of writing classes at conventions like Origins and DragonCon, at Arizona State University, and at Dragon's Lair in his home city of Austin. Our goals in teaching were to demystify writing and provide our students with a wealth of tools and strategies that would make writing easier and more effective. We taught writing as its done in the trenches, so new writers could turn out the kinds of stories that they want to tell, and we like to read.
Fairly often we each attended the other's lectures. Listening to Aaron teach was a pure joy. I always marveled not only at Aaron's insights, but the wealth of examples he used to illustrate points. He was a well-read man who found a way to simplify the complexities of writing. He never taught from the guru position of, "This is how I do it, so you should too." Instead he would offer ways it could be done, encouraging the students to be curious and to play.
Those of you who took Aaron's classes, you were truly fortunate. Aaron was one of the most natural and gifted teachers I've ever met. Aaron had no pretension and tolerated no pretension—all he wanted was that you write to the best of your ability, and that you enjoyed what you were doing. And, for all of you, the best way to honor Aaron is to keep writing and keep feeding your dreams.
There were times, before and after classes, when you might have seen Aaron and me huddled at the front of the room, chatting, smiling, even laughing. It was from the pure delight of teaching and watching faces when lightbulbs went off in heads. Every time someone said "I've learned more in two hours here than I have in years of taking classes,"—and there were many—it was better than getting the Nobel for Literature. Aaron and I particularly took delight in people returning for a second day who felt compelled to say, "I hate you. Because of you I stayed up all night revising my novel." And even better were those who said, "Thank you. What you said let me fix the problem in my book."
Aaron really had a passion for teaching. The last time I saw him was in November, when we taught two days of seminars at Dragon's Lair in Austin. The previous February he'd come to Arizona State University to teach at the Desert Nights, Rising Stars conference, and had agreed to be one of the writer-mentors in the Your Novel Year program. On my list of things to do was to double-check with him on the program of classes we were going to offer at Origins and DragonCon for 2014. Doing those classes may have been exhausting, but Aaron was at his best teaching them.
Aaron was the best of friends when it came to listening to, plotting and collaborating on wild schemes. Many of our conversations of late covered the changing nature of the publishing industry. He generously helped me refine many of my plans. Some of you even attended the panel at DragonCon last year where Aaron, Timothy Zahn and I talked about collaborating and even began working on the project right there. You saw his genius and how much fun he had in putting together projects that let him work with friends. (I've already spoken with Tim, and we will be making that project happen.)
Many people, when they pass, are lauded as having "touched many lives." Aaron enhanced them. His stories have brought smiles, provided escape and sanctuary, and even life lessons to and for his readers. His teaching has enabled lots of young and new writers to start along that path to attain their dreams. And his good sense and humor and friendship has kept people like me encouraged and sane. That he made my life better is an understatement, and the future will still be powered by his influence.
There will also be a future for Aaron's work. Before his death he'd completed a full novel. This year's Origins' anthology will have one of his stories. His family has determined that his work will remain available. Aaron's friends are going to do those things which need to be done to make sure the gift of his stories is not lost. Nor the gift of his teachings for writers.
I would have written about Aaron sooner, except that part of me wanted to believe that if I could delay things, for a day or hour or minutes or even a second, somehow he wouldn't be gone. That's the kind of thing we get to do in our books—create miracles. It's pure magic thinking, and I know that. Worse, Aaron would be kidding me for indulging in it.
I'll face the truth. I've lost a very good friend, and I'll be feeling that loss for the rest of my life. But, I'll take solace in the fact that when I need to visit Aaron, I can pick up one of his books and find him there. And I can smile knowing that there are plenty of other people who will find him there, too.
And if there is anything that eases my heartache, it's this: I know that Aaron will be in Heaven, because there's no way the Devil is going to put up with those puns.
You are sorely missed, my friend, but never forgotten.