Fiction For A Cure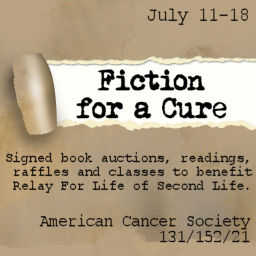 Fiction For a Cure is a Second Life fund-raising event, which is part of the American Cancer Society's Relay for Life campaign. Kat Klaybourne and I have organized the event, which features live and silent auctions, classes, readings and raffles. Kat reached out to donors and sponsors on the Second Life side of things, and I asked a favor of my writer friends. As a result, we have a stellar lineup of creative talent who have offered rare and unique prizes.
Seriously, please hit the Fiction For A Cure link. I'll wait. (I've even made it open a separate window for you.) Take a look at the donor sidebars. We've over thirty authors who donated books, games and/or really cool opportunities for you to get written into a story. To be quite frank, the response and generosity of responses has been a bit overwhelming. But that means it's your chance to get your hands on some very rare and wonderful material.
In addition to the auctions, we'll have classes and readings. I want to point out that on 14 July at 6 PM California time, I'll be offering my class 21 Days To A Novel. If you've ever had an interest in taking the class, but couldn't make it to one of the conventions where its offered, this is your chance. The donation we're asking works out to roughly what you'd pay at Gencon or DragonCon.
Here's a link so you can read up on getting started in Second Life. It's a lot of fun, and I hold weekly chats there.
If you can't make it in, or would just like to donate to the Fiction For a Cure event, you can hit this link to contribute.
This is going to be a really cool series of events. I know we'll have more things to announce, and I'll get info out on as timely a basis as I can manage. Check back here for more word, and thanks for your help.