Fiction For A Cure: Friday Line-up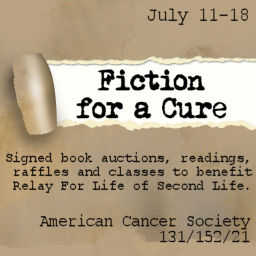 Fiction For A Cure, which is a mega-event in the Relay For Life of Second Life's fundraising campaign for the American Cancer Society, wraps up today. We have two incredibly special events to finish the drive.
At 3 PM PDT/Second Life time, New York Times bestselling author Diana Gabaldon will join us for a reading. Yes, that Diana Gabaldon. She agreed to give us an hour between coming off her author tour and the ComiCon hoopla concerning the Starz Outlander series. In addition, she's donated two signed books for the live auction.
At 6 PM PDT/Second Life Time, we'll hold our Live auction. You definitely want to hit the link just to take a look at all the fantastic things that authors have donated to the fundraising effort. I'll be hosting the live auction, and this is the perfect chance to start or fill out your book collection. Even better, you can get a head start on your holiday shopping.
If you can't make the auction, but would still like to help the effort, you can go directly to our fundraising page to make a donation. Your support is very much appreciated.
But, really, you want to join us. The live auction features incredibly rare items you'll likely not see again. Your money goes for a great cause, and you get fantastic rewards for helping out.