Fortress Draconis: The Podcast Chapter Twelve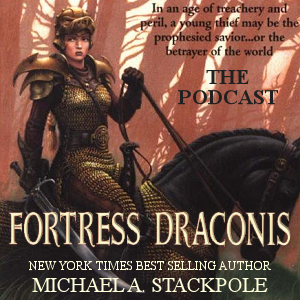 Chapter Twelve of Fortress Draconis: The Podcast went live Wednesday. Will, Crow, Resolute and Sephi return to Stellin. That happy little town is no longer happy, and folks are not happy to see them.
Chapter Twelve is but a click away.
You'll be able to stream (play directly through a media player such as Winamp, Windows Media Player or iTunes) Fortress Draconis. You also have the option of downloading the .mp3 files directly to your computer. To save a file to your PC computer: right click the above link and choose "Save target As." To save a file on a Mac: click and hold the mouse button on any above link and choose "Save File As." If you are using OS X, simply Option-Click on the link and the file will be automatically downloaded.
The initial post in this thread has a great rundown on what a podcast is and how to download the files through software like iTunes or other aggregators. To subscribe to the podcast through iTunes, simply click on the button above.