Fortress Draconis: The Podcast Chapters Seventeen through Twenty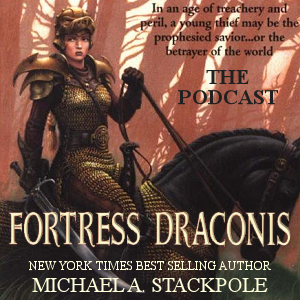 Okay, so I've been remiss in updating the blog here. I've been on the road and, even as I am typing this, I'm in Orlando at AssimilationCon. In the dealer's room. In the corner.
And having a lot of fun.
I've been uploading chapters all the way along, with the links below. Chapter Twenty is a turning point, as we introduce our last main character: Kerrigan Reese. From this point forward we'll be alternating between Will, Alyx and Kerrigan. Well, and a few more folks. But they're further down the line. We're roughly a third of the way through the book—and that section will culminate in the coming siege of Vilwan!
Chapter Seventeen is available with a click.
Chapter Eighteen will cost you another click.
Chapter Nineteen is available with a click.
Chapter Twenty will cost you another click.
You'll be able to stream (play directly through a media player such as Winamp, Windows Media Player or iTunes) Fortress Draconis. You also have the option of downloading the .mp3 files directly to your computer. To save a file to your PC computer: right click the above link and choose "Save target As." To save a file on a Mac: click and hold the mouse button on any above link and choose "Save File As." If you are using OS X, simply Option-Click on the link and the file will be automatically downloaded.
The initial post in this thread has a great rundown on what a podcast is and how to download the files through software like iTunes or other aggregators. To subscribe to the podcast through iTunes, simply click on the button above.