Two 4-day Passes to Gencon Free!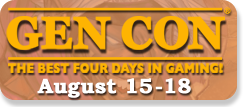 As I noted in my previous post, I have been traveling a lot. I've been away from home in July more than I've been here. Fact is, I love traveling and attending conventions.
And, thanks to the folks at Gencon, you have a chance to travel, too.
Gencon, the "Best Four Days in Gaming," and the Gencon Writers Symposium are letting me give a talented and creative reader of this blog a chance to win free admission to the convention. You'll still have to get there and cover your own housing, but you and a friend will get into the show for free. (Plus, and I'm tossing this in just cuz, if you come to any of my writing seminars, you won't have to pay for them.) This is two FREE 4-day passes to Gencon.
And as an even better added bonus, since 75% of the Writer Symposium seminars are free with a badge, you can get tons of great writing advice from writers for free. You'll also be able to listen to some great readings by the guest authors.
To determine who wins, we'll have a contest. Herewith are the rules:
1) To enter you must create a picture of yourself reading one of my books. (Or, if you want, a number of action figures reading or otherwise using the books in some way, shape or form.) If you are reading on an e-reader, some creative photoshopping to show off a cover illustration is permitted.
2) Upload the picture to Facebook or Flickr or some other website, and post a link to the picture in the comment section of this post. I'll review the entry, then approve the comment so others can see your work.
3) Pictures should all be PG-13, PG or G.
4) Pictures will be judged based on creativity; with points for interesting locations, humor, use of costumes and/or the aforementioned action figures, active-duty military in uniform and anyone who knows what KCCO means. I will use a panel of experts to do the judging.
5) All entries must be posted to the comment section of this post by Midnight, 2 August 2013.
6) For every thirty entries, I'll come up with some other prizes (Signed books, etc..) to send out.
7) Each person may post one entry to the contest. (If you are doing a group shot, each member of the group could post a separate version of that shot.) The owner of the email address associated with the comment will be the person to whom the passes are awarded. The passes will be mailed to you prior to the show.
Good luck, and let your creativity flow!