Fortress Draconis: The Podcast Chapter Thirteen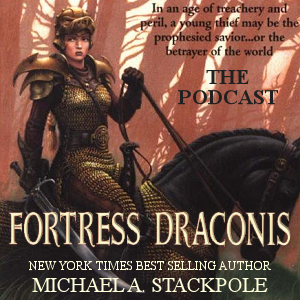 Chapter Thirteen of Fortress Draconis: The Podcast went live today. Will, Crow and Resolute have been sent to the stable to save themselves from marauding Aurolani bands of gibberers and vylaens. They do a lot of killing and make a startling discovery.
Chapter Thirteen is but a click away.
You'll be able to stream (play directly through a media player such as Winamp, Windows Media Player or iTunes) Fortress Draconis. You also have the option of downloading the .mp3 files directly to your computer. To save a file to your PC computer: right click the above link and choose "Save target As." To save a file on a Mac: click and hold the mouse button on any above link and choose "Save File As." If you are using OS X, simply Option-Click on the link and the file will be automatically downloaded.
The initial post in this thread has a great rundown on what a podcast is and how to download the files through software like iTunes or other aggregators. To subscribe to the podcast through iTunes, simply click on the button above.